Working From Home 2 of 3: Co-workers, Pets & Family
Now that you have worked out where your office space will be at home, let's work on tips to manage the relationships with your new and old co-workers.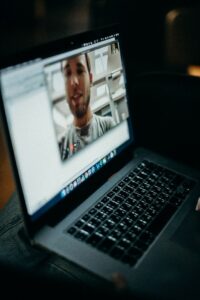 Co-workers:
Keep social interactions as normal, just make them virtual. Ensure to find ways to still be social. WFH is extremely isolating so keep in contact with your co-workers just like you would in the office. Discuss last night's TV shows, share a meme, etc. Check in on your co-workers via face to face video chat.
Have team happy hours over face to face video (Microsoft Teams) calling – make each one a theme, wear your favorite hat or everyone introduces their pet.
Pets:
Shoo the pets from the room and close the door when you're on calls. Even better, hang something on the doorknob telling the other people in your house to not open the door to avoid them barging in while you frantically wave at them to be quiet. Make it clear when they can pop in and say hello vs when you need quiet.
Family:
Have lunch with your family, this is a great opportunity to get some extra family time in. Why not take your lunch break and catch up with your kids? Everyone in your family will know between noon – 1:00pm mom or dad will be around.
We hope these tips were helpful! Let us know in the comments below how you are staying in touch with your co-workers and adjusting to having new WFH co-workers. Keep an eye out for one more work from home blog-post regarding your routine.
About Empowering Systems, Inc.
Empowering Systems Inc., headquartered in Southborough, Massachusetts, empowers manufacturers and representatives with customer relationship management solutions.
AccountManager 365, use AccountManager right from your Outlook inbox
Update opportunities, activities and more right from your Outlook in-box